Why kids should do martial arts | which is the best martial arts
Many people think that martial art is only good for adult people. They do not know that martial arts can be of great benefit to their children than to adults. Some of the benefits of the martial arts to children include keeping them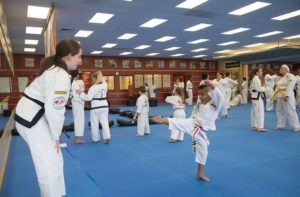 fit and healthy, developing their athleticism, educating them on different ways of defending themselves, strengthening their minds, improving their confidence and self-esteem, and teaching them good behaviors.
Also, check out our review article best jiu jitsu belt or best jiu jitsu gi for kids and mouth guard for bjj by easily turn on martialboss.com
Benefits of martial arts
Whether you are looking for a traditional or modern type of martial arts, martial arts have proved to be the best sport in the life of human beings. Many people benefit from training martial arts in many ways. Some of the benefits of engaging in martial arts include
Improving your health and fitness
Increase your mobility
Improves your flexibility thus you can perform any task
Increases your strength and power to handle anything in your life
Help in lowering the level of your blood pressure and heart
Improves your stability and coordination thus you cannot fall anyhow.
Increases the rate of your mental concentration
Best type of martial arts for kids
Nowadays, there are many types of martial arts in the world. However, not all these types of martial arts are good for your children. The best martial arts for kids are Karate, Kung Fu, Brazilian Jiu-jitsu, and Muay Thai. Participating in any of these forms of martial arts will make children physically and mentally fit, remain a focus, and improve their level of concentration. They will also enable them to defend themselves and neutralize the situation in case of an attack.
Karate
Karate is one of the best martial arts for kids in the world at the moment. Like other types of martial arts blocking, kicking, and striking are the key elements of this martial art. Children are theoretically and practically taught how to defend themselves in case of danger. In fact, it will provide a safe outline for excising their energy and at the same time improving their confidence and self-esteem too.
Kung Fu
This type of martial arts has its origin in China. It is a highly physical game that involves more movement of fluid. Allowing your children to participate or train Kung Fu will help them to be flexible as the game involves more fluid movements. Although it involves a highly physical game, Kung Fu demands you to remain focused and discipline by respecting others. It is, therefore, another best martial arts for kids
Also Read: Difference Between jiu jitsu vs bjj 
Brazilian Jiu-jitsu
Both girls and boys can participate in the Brazilian Jiu-jitsu. It does not involve a lot of kicking or striking; students are taught different ways of defending and balancing themselves from the opponents. The game helps children to their fitness, balance, and improves their interaction as well. It is a fun but best martial arts for kids
Muay Thai
Muay Thai is good for your kids. Its emphasis developing confidence, self-discipline, increasing your social networking and learning different ways of solving issues in non-violent ways. Therefore, allowing children to participate in this game will help them to enhance the above-mentioned skills. Also, it will help in reducing the level of fat in their bodies.
5 reasons why Brazilian Jiu-jitsu is the Best Martial art for kids
Ideally, Brazilian jiu-jitsu is the best martial art for kids. Whether boys or girls, this is an ideal game for them. Although it is not a physical games like other types of martial arts, the Brazilian jiu-jitsu is important in helping children to improve their social opportunities and interactions, fitness and health, confidence, discipline, and respect, coordination, and makes them feel happy throughout their life.
First, Brazilian jiu-jitsu has been known by many people not only in the country but also all over the world as one of the martial arts that effectively teaches children about respect discipline. The two attributes are, in fact, the main reason for the rapid growth of Brazilian jiu-jitsu in the world. While learning this art, your children will develop the character traits that are associated with respect and discipline. However, in order to instill such character traits in children, parents and coaches should provide them with proper practice as well as training. They should be provided with great support during and after training by encouraging them. This form of martial arts teaches children good moral values and behaviors. Children are taught different ways of reacting to the adults and the situation. They are only allowed to apply this tactic in case the situation forces them to use it. In fact, they are always supposed to act in a non-violent manner to all situations even when bullied.
Martial arts for self-defense 
Second, by learning self-defense tactics, Brazilian jiu-jitsu enables children to learn the self-defensive mechanism. Unlike other types of martial arts that teach unrealistic moves, this form teaches children different ways of neutralizing dangerous situations in life and how they can prevent themselves or even other people from injuries. Therefore, mastering Brazilian jiu-jitsu will help the child to control any attacker either at home or in a shopping mall. He/she will be able to neutralize all the situations in a realistic manner.
In addition to providing children with self-defensive techniques. Children can be more confident in all they carry out regardless of their social status. In fact, most of the skills taught in the jiu-jitsu on self-defense concentrate on helping children to deal with bullying by other people anywhere. It is obvious that bullying can cause disastrous damage to individuals; therefore training children in jiu-jitsu improves their confidence and skills of defending themselves. They gain courage and confidence to react to the situation in a way that will not affect other people. Due to the development of courage and self-confidence, most children are now performing well at schools. They can courageously face them teachers to explain to them certain concepts whenever they face stack after being taught in class.
Social communication 
Brazilian jiu-jitsu also increases social opportunities and networks for children. Many people think that martial arts are only for training someone to be physically and mentally fit. Martial arts like Brazilian jiu-jitsu do not only train you to be fit and healthy but also increases your social networking. Children get opportunities to make new friends while they are training. They learn how to be honest and cooperate with other people in their life.
Also, as a sport that involves many physical contacts, children are able to develop different social skills that are necessary for nurturing their relationship. Through social interaction and the establishment of new friends associated with Brazilian jiu-jitsu a child may in the future find himself getting married to his/her mate and this will strengthen the relationships among themselves. Also, children will be able to get awards after the end of the training to show that they have attained what is needed and thy have all skills of defending themselves against an attack.
More comfortable and Coordination
Additionally, Brazilian jiu-jitsu makes children more comfortable and Coordination in their work. By involving in this form of martial arts, children will be able to develop bodies and improve their coordination making them feel comfortable in the entire situation. Learning his skill will also help them to easily handle activities that require a high level of coordination. These activities could be push-ups, cartwheels, and creak-falls among others. Such practices are also useful to children when they find themselves participating in sports in the future as they will be more flexible to the changes during the game. Also, many activities involved in this form of martial arts increases the flexibility of children in performing various task either at school or at home.
Perfect Fitness
Apart from providing fitness to children, it is a positive hobby for children. Training in Brazilian jiu-jitsu can be an exciting activity for your kids. Due to more interaction offered in this form, many children will develop the habit of attending lessons each week. This will help them to develop and master the skills that are necessary for accomplishing their objectives. They will also feel existed when they accomplish those objectives. In fact, this form allows children to develop their minds as well as improve their physical attributes simultaneously while perfecting on their social interaction skills. The skills gained from these forms of martial arts are very useful in enhancing their memories. Children are able to recall everything taught in their training and all they have integrated with during training. Therefore, Brazilian jiu-jitsu is the best martial arts of instilling these skills in children.
Conclusion
In general, martial arts care very important for children. Apart from masking them physically and mentally fit, children are able to learn various skills of defending themselves or others in case of an emergency. They also plays an important role in helping children to develop their athleticism, educate them on different ways of defending themselves, strengthen their minds, and improve their level of confidence and self-esteem. Those who train in the Brazilian jiu-jitu form of martial arts get great opportunities for interacting with one another thus improving social networking skills. Finally, these martial arts can be used as a way of engaging the memories of children as they demand one to be more attentive and focused. Let your child train in one of the best martial arts in the world today.