The 8 Best Muay Thai gloves reviews for 2021 and Buyer's Guide
Muay Thai and Boxing share both similarities and differences. So, obviously, you cannot always use boxing gloves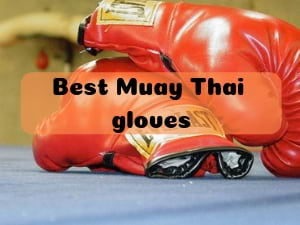 for Muay Thai. As a serious Muay Thai fighter, you should not only wear Muay Thai gloves in the fighting ring but also wear them while training.
But from thousands of choices, you get while choosing a pair of Muay Thai gloves, which one would you choose? Today I am going to help you find the best Muay Thai gloves from the market which also helps you to make perfect Muay thai punch. So, let's get started on the reviews.
Frequently Asked Questions (FAQ)
Q. What weight gloves should I get for Muay Thai?
Ans. If you are just training for Muay Thai, you should get the heavy one that weighs about 16oz. But for fighting, you should pick the lighter one which weighs about 8oz.
Q. What gloves do I need for Muay Thai?
Ans. To train for Muay Thai you need Pad Work gloves or Sparring Gloves. But for fighting professionally pick the fight gloves.
Q. Are boxing and Muay Thai gloves the same?
Ans. Muay Thai gloves and Boxing gloves are different. For boxing, you should only use western boxing gloves but for Muay Thai, you can use both Muay Thai gloves and boxing gloves both.
Q. What is the difference between Muay Thai and boxing?
Ans. The difference between boxing and Muay Thai is, in boxing, you focus only on using the hands for punching. But in Muay Thai, punching and kicking both are involved.
Muay thai glove Types
Muay thai gloves come in several types. Let's see how they differ from one to another.
Training gloves: These gloves maintain the standard for training. These are compatible for heavy bag work, sparring, and clinching also. They're generally light weight, weight is around 10oz to 12oz. For beginners, it is highly recommended to buy the first pair of training gloves. 
Sparring gloves: It is designed in a bigger size to give extra protection whenever a practitioner throws a punch. They bear to be strengthened in the knuckle & wrist areas and these meant to set tighter to prevent hand and wrist from shifting within the gloves. The standard weight considered for sparring gloves is 16oz. It is highly recommended for heavy sparring and competition.
Other Types: 
Bag gloves:

Bag gloves specifically made for bag training. These types of gloves compromise to protect the knuckles. These gloves are extremely light and are the best for hard punching. Bag gloves should not be tried in sparring because it doesn't offer any protection.

Clinching gloves:

This one is almost the same as bag gloves. But the difference is, the bag gloves may double as clinching gloves. 
Muay Thai clinching gloves and bags aren't necessary and as per preference, Experts recommend either sparring or training gloves give you the best results.
Check out our best shin guards review here
7 Best Muay Thai Gloves On the Market
IMAGE
PRODUCT
DETAILS

Professional competition Level
Have 3/4-inch padding
Durable leather construction

More Details

Fairtex Training Sparring

All-purpose gloves
Tight fit design
Handmade in Thailand.

More Details

High quality and durable
Longitudinal Arch Design
Secure Hook & Loop Closure System

More Details

Ultra-lightweight MAYA HIDE LEATHER
3D cooling mesh
Kick Boxing, Muay Thai, Youth Sparring

More Details

Maya hide leather
Extra Thick Foam
Super Ventilation

More Details

Open Palm Design
Strong Leather
Super Lightweight

More Details

Anthem Athletics STORMBRINGER

PremiumBuffalo Leather
Triple Foam Density
Good Wrist Protection

More Details
#1. Combat Sports Pro Style MMA Muay Thai
The Combat Sports Pro Style MMA Muay Thai is for those who are pro at Muay Thai. It weighs very little while being extra durable. This gives more comfort as well as a good advantage against the opponent.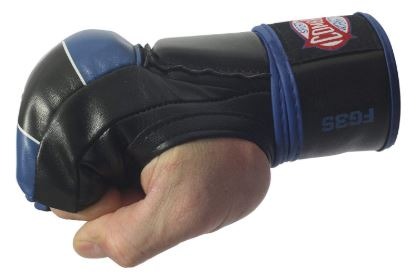 By wearing these gloves you will get a full gripping capability that will allow you to be more precise and accurate in attacking or defending. Moreover, the material is durable enough to last longer than any other common Muay Thai gloves.
What makes this the best gloves for Muay Thai, is that it comes in different sizes. From a 10-year-old to an adult, everyone can practice Muay Thai wearing these gloves.
Highlighted Features
Weighs only 5 ounces.
Has ¾ inch padding for comfort.
Has an open palm design.
Made with strong leather.
Comes in different sizes
Pros
Durable Leather Construction
Product dimension 9.5 x 4 x 3 inches and weight 6.4 ounces
Great for kids and well made
Able to maximum support for a body combat class
#2. Fairtex Muay Thai Style Training
The Fairtex Muay Thai gloves is a boxing glove that you can use for all type of boxing including Muay Thai. It is designed in a way that will perfectly fit your wrist and you will feel really comfortable wearing this.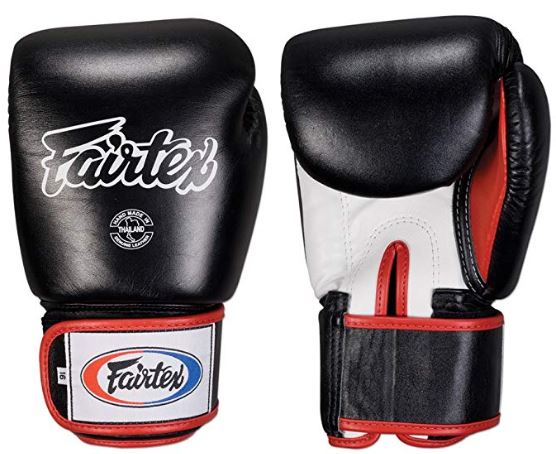 The straps of these gloves are vectro straps. This means it will stay tightly on your wrist and will keep the inside airtight. So there will be no sweating as the inside will feel cool.
You can find different sizes of this glove and the weight varies with each size. However, the weight is very light and doesn't vary largely with the size. Overall this is the best one to choose for its durability and comfort.
Highlighted Features
Designed to fit tightly.
Made with premium leather.
Weighs 8oz which is very light.
Comes in various colors.
Pros
Product dimension is 6.5 x 6.5 x 16 inches and weight 2 pounds
Able to use all kind of martial arts
Best quality Gloves
#3. Sanabul Essential Gel Boxing
Leather gloves are always the best ones to wear. If the leather construction is properly engineered then there is no other glove as good as this one. The Sanabul Essential Gel Boxing gloves are the best Muay Thai boxing gloves for having such high-quality leather construction.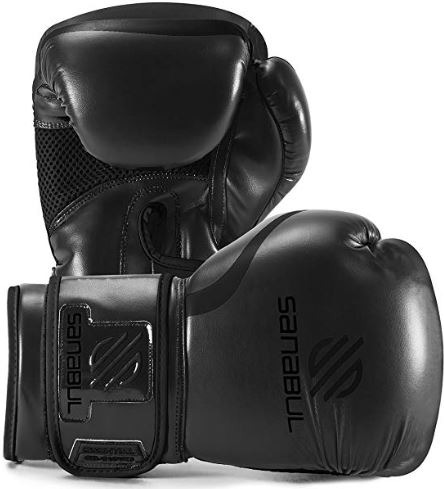 The foam in these gloves is gel infused. This makes the glove very soft but at the same time, it gives super protection. So it will help you to prevent injuries while you are training or fighting in the ring.
Lastly, these gloves fit perfectly on your wrists and stay tight but not too tight. So, these are the best Muay Thai gloves for beginners as they are quite comfortable but at the same time very strong and durable.
Highlighted Features
Easy to maintain and clean.
Gives proper closer to fists.
Secure loop and hook closure.
Comes in 8oz, 12oz and 10oz weights
Pros
Made by high quality Leather
Very easy to clean when it becomes dirty
Affordable and convincing price
#4. Elite Sports Boxing, Kickboxing
For the children who are practicing the Muay Thai, the Elite Sports Boxing gloves are the best gloves. These gloves are pre-curved so that the kids can easily punch without hurting themselves or others.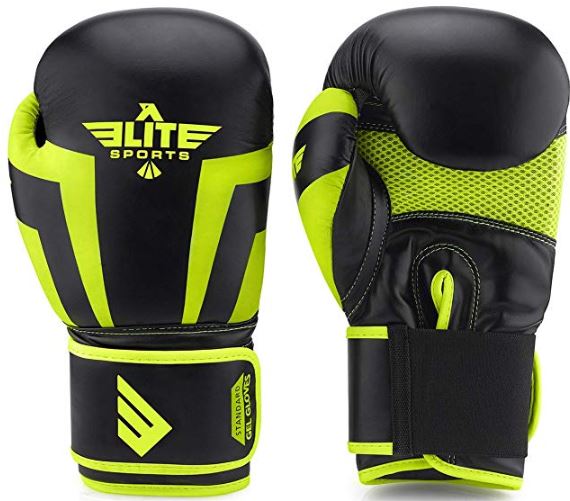 This pair of kids Muay Thai gloves give extra protection to the kids with the special impact foam. They will feel like a pro after practicing Muay Thai wearing these gloves.
Finally, the Elite Sports Boxing is not only for Muay Thai but also can be used for youth sparring and kickboxing as well. In short, this one is the best choice for kids who are into Muay Thai.
Highlighted Features
Weight varies from 4 to 8oz.
Made with Maya hide leather.
Easy to take off or put on.
hand stays dry and cool.
Triple density gel for extra protection.
Pros
Available 10 different color
Impact foam and high density gel able to provide top class protection
Both beginner and advanced player gloves
All size available
#5. RDX Ego Boxing Gloves Muay Thai
The RDX Ego Boxing Gloves Muay Thai contains quick hook and loop technology that allows you to easily put it on or off. Also, it helps to fit the gloves tightly on your wrists.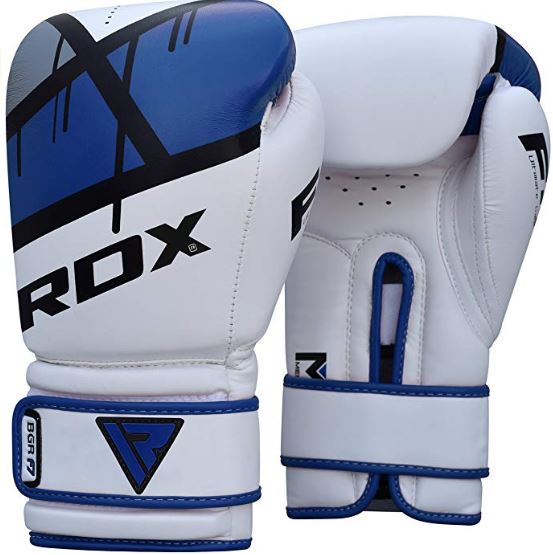 It has extra thick padding that will guard your hands thoroughly while you are training or facing your opponent. On top of that, its Quadro-dome technology allows you to have natural alignment when you strike.
You can find these gloves in various sizes and colors. So you can pick any one of these you want according to your choice. To sum it up, this is a great pair of Muay Thai training gloves for being so durable and ultra-light.
Highlighted Features
Constructed with Maya hide leather.
Extra thick foam for better protection.
Comes in different weights from 8 to 14oz.
Has good ventilation.
Pros
Professional Muay thai gloves
High Quality leather provides long-lasting durability
Easy on/of velcro strap
5 different color available
Affordable price
Cons
wrist strap little bit narrow for heavy-hitting
#6. Combat Sports Pro Style MMA Muay Thai
This is another Combat Sports gloves for Muay Thai. Those who are not new to Muay Thai can use these gloves comfortably as it is not like the others. It weighs very little but is quite durable. For this feature, you will feel comfortable as well as get extra benefits while facing your opponent.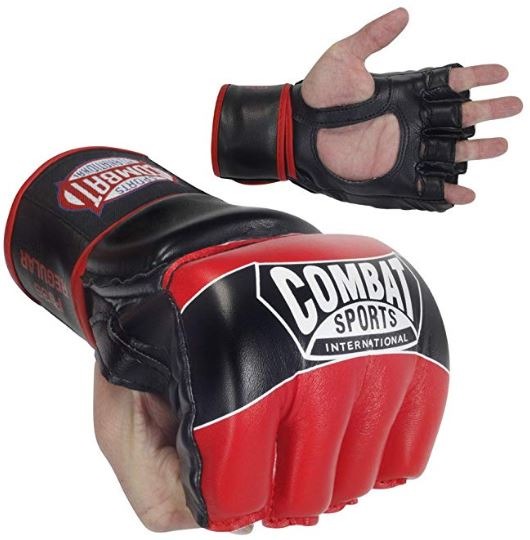 You will feel how good the grips are when you wear these gloves. This amazing grip will make you more accurate and precise in defending and attacking the opponent.
Other than that, this pair of gloves come in various sizes and colors. There are so many options that you will definitely find the best match for you. Overall, this is the best Muay Thai gloves when it comes to comfort and durability.
Highlighted Features
Very lightweight (5 ounces)
Well-padded for extra comfort and protection.
Contains an open palm design.
Constructed using strong leather to last for years.
Available in various colors and sizes.
Pros
available 8 Different color
Product dimension 9.5 x 4 x 3 inches and shipment weight 6.4 ounces
Available all size
Standard price well-made gloves
Cons
Someone claim cheap gloves
#7. Anthem Athletics STORMBRINGER Fight Gloves
With high-quality construction, the Anthem Athletics STORMBRINGER Fight Gloves provide a superior performance if you wear these gloves. It's quite durable so that you can train as much as you want without damaging the gloves.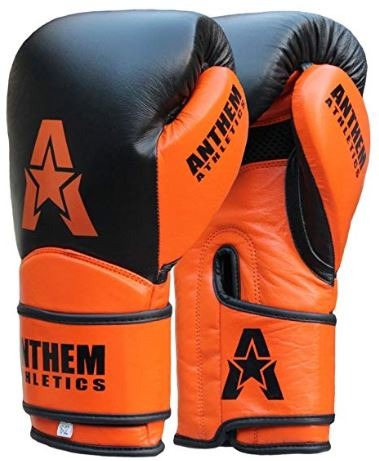 On top of that, it's very light so, you won't even feel that you are wearing any gloves while training or fighting. It contains high-performance PU foam that gives you a lot of comfort and holds off the sweat or moisture.
The additional padding of these gloves offers you good protection over wrists when you are fighting. Overall, this glove is the ideal one for you if you want a pair that you can use for both fighting and training.
Highlighted Features
Premium buffalo leather is used to make this.
Triple foam density for heavy impact absorption.
Provides good wrist protection.
Has moisture-wicking technology.
Available in various colors.
Pros
premium buffalo leather gives long-lasting gloves
For comfortable have high-quality PU foam
Available 11 different color
30 days money back guaranty
#8. Everlast 12-Ounce Pro Style Muay Thai gloves
The difference between the Everlast 12-Ounce Pro Style Muay Thai gloves and the other gloves here is that this one is not fully made of leather. Here about 80% of the gloves are constructed using polyurethane.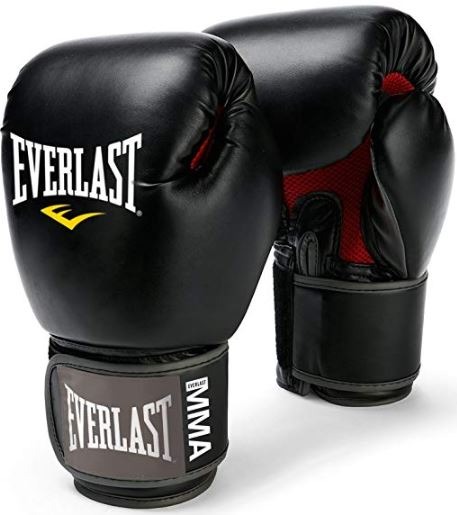 Though this material is not as comfortable as lather it sure is more durable. But that doesn't mean it is not comfortable at all. It is surely comfortable enough to train with as it has some leather component as well.
It has an authentic design of Muay Thai gloves and also contains a support panel. With this panel, your wrists will always be safe. To sum it up, this pair of gloves is less about comfort but more about durability and protection.
Highlighted Features
Constructed with polyester.
Protects wrist with full wrist strap.
Premium synthetic leather for durability.
Custom-fit.
Pros
Product dimension is 15 x 12 x 8 inches and weight 1.43 pounds
Amazon choice Gloves
For high safety, it has cell foam technology
Hayabusa T3 Muay Thai gloves
If you are eyeing a double secured wrist closure system then Hayabusa T3 can be the right choice. It provides the best Dual-X closure strap wrist support designed by the 4 interlocking splints technology at the back of the hand. This technology is used to provide the best wrist support which makes you feel lace-like fit and is protecting from common injuries due to misfired punches and harmful twisting. 
Apart from that, it is made out of 4 layer foam structure which will eliminate your tension for break in. The microfiber leather used in Hayabusa T3 is for superior crack, abrasion, and tear resistance. It also has a microfiber thumb which will eliminate your sweat quickly.
Hayabusa T3 comes in 4 color variants and you can choose among Black & blue, white & black, black & grey, and black & red combinations.
It might be a bit time consuming to put on the gloves but we recommend this if you're looking for the best wrist support.
Features:
4 layer foam structure.

DUAL-X closure system.

Microfiber leather

Microfiber thumb.
Pros
Doesn't require break in.

Firm wrist support.

Crack, abrasion and tear resistance.

Quickly eliminate sweat
Cons
 Time consuming to put on the gloves.
Best Muay Thai Gloves Buying Guide
Now that we are done with the Muay Thai gloves review, here is a quick buying guide that will help you to pick the perfect Muay Thai gloves from the market.
While shopping for a pair Muay Thai gloves make sure you check these features carefully in the gloves.
The weight of the gloves
Practicing Muay Thai while wearing gloves will become a lot easier if the gloves don't weigh too much. So, before you pick a pair of gloves, make sure you are comfortable with the weight of the gloves.
Construction quality
If you don't want your gloves to get damaged after using it for only a few months, you have to pick one that has good construction quality. Leather gloves are always the best ones in this case.
Good fit
A good fitting pair of gloves is not only judged by how perfectly your hands fit in the gloves, but also by the tightness. You don't want the grip to be too tight but at the same time, you should not pick one that has a loose grip.
These are the features you should check in the gloves before you pick a pair. Now let me show you which size you should pick based on the activity.
There are various sizes available for Muay Thai gloves. Here I have categorized the gloves into three main parts based on the size.
Fight Size (8oz to 10oz)
This is the size you should pick if you are getting the gloves for a professional fight in the ring. This is the lightest size for Muay Thai gloves and they help to throw faster or quicker punches.
Pad Work Size (12oz to 14oz)
This size is perfect for training or use in professional fighting as well. As they are thicker they provide extra protection against shock.
Sparring Size (16oz)
Finally, if you want, you can keep a spare size just for training. They are the thickest type and they provide the most protection you can ask for. But as they are heavier, you will not be able to throw punches as fast as you can throw with a pair of fight size gloves.
Final Verdict
Picking the perfect pair of Muay Thai gloves should not be a problem for you anymore. In this list I have added the best Muay Thai gloves I found through my months of research. But if you ask me, I would suggest you get the Fairtex Muay Thai Style Training gloves and here's why.
This pair of gloves is not only suitable for training but also perfect for professional fighting as it is so lightweight. Aside from that it is very well constructed and will last for years without getting damaged. Also, it keeps your hands cool and free from sweat which I love the most about this one.
But there are always other options for you to choose from here. Each of these gloves is capable of providing you some special benefits. Conclusively, I hope this article was helpful to you.